Welcome to BINGO International Kindergarten
[/vc_column_text][/vc_column][/vc_row]
We enable our students to select projects that are suitable for their age and ability.   With each completed project, the challenges grow as they do. As such, 'BINGO' stands for:
B

ecome
I

ndependent
a

N

d
G

oal
O

riented

A Full Day
Do you want your child to be more confident?
With our music, art, library, farm and park, they'll learn to work alone as well as with others,
Early Drop Off
Need an earlier start? We have an early drop-off program beginning at 0830. Your child can work on projects, play music or make crafts.

After School
Those that stay longer have a wide range of activities to do, including music playing and listening, arts and crafts, and reading.
Indoor Areas
Each room in our school features a primary activity, with other compatible ones.  For example, Our Music Room has a variety of musical equipment and instruments as well as spaces for dollhouse play and transport design.  Our Library has several levels of books as well as puzzles and word games.  Our Kitchen… well our kitchen is basically for cooking and cleaning; no trains in the kitchen.
School Philosophy
モンテッソーリは子供たちそれぞれの年齢、成長の差に合わせた学びの場を作り上げます。
大きな子供たちは算数の基礎、読み書きはもちろん、料理や裁縫も楽しみます。
小さな子供たちは運動スキル、知覚スキルを発達させる活動をさせることにより、自律を促し自信をつけさせます。
Outdoor Areas
Our yard includes an extended deck and growing vineyard.  We have some fruit trees as well as a garden that the students help harvest and maintain through the seasons.  We have plenty of farming and gardening equipment; this facet of the school is backed by a farming family…. So, we also have our own farm just a short walk down a walk path!
We also have a modest park immediately across the school's parking lot.
Arts and Sciences
This year alone we have made an air-conditioner for the Library, A rock-climbing wall for our upstairs gym and snow globes for our Christmas Party.  "We' means, students and faculty.  Students learn to measure, use modern tools, design and assemble.
Students design with both low and high velocity tracks, integrating block structures with the goal to create unique designs and experiences.  They learn practical cooking and cleaning and commerce.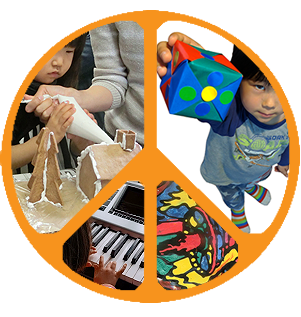 The Dojo
Upstairs we have a gym, with balance beam, tumbling mats, punching bag, rock climbing wall and cubbies to climb into and up-to.  We also have an aerobic trampoline and a low single bar.
The room can be divided for other activities and the flooring is tatami, for extra falling protection.
There is also a kitchenette and toilet.
Our Results Speak for themsleves!
Most Parents have decided to join BINGO within an hour of visiting!  Some have joined on the spot, while others have returned the next day to fill out the forms. We usually get a call the same day as the visit.
Those few who waited to join eventually come back after checking other schools; we've even suggested to visitors to check other schools before they make their decision.
Those with children too young to be a part of the school, sign up early to ensure they have a spot the next year.
Previously, our school was entirely Montessori-based.  While This valuable teaching methodology is excellent for learning the basics of math, cooking and sewing, it is not best for ESL learning, particularly in a second language immersive  environment.  So, we re-evaluated our goals and accomplishments and developed a mixed methodology to accomplish a more well rounded approach to your child's development.
Classroom and individual learning methods
Group and isolated learning and studying
Individual and team playing and experimenting
Social development, group and self confidence building
Self and social responsibility
Saori Sensei is a nurse and has a nursing license for California, as well.  We have emergency rations, shoes and clothing as well as regular emergency evacuation drills and earthquake response practice.  A first aid kit is always at hand and we have well placed fire extinguishers.
Children are safer when they are confident in their abilities and know their limitations.  They learn not to panic if they fall; that they'll be OK and that there is no need to feel embarrassed:  Primary reasons why crying after a minor accident occurs.  They learn to help others by retrieving tissue, towels or an ice-pack when a tumble occurs.
We strive to ensure our environment is fun and safe.  When we identify a student's natural talent, we'll nurture it by bringing in whatever might help that talent develop:  Hence our electronic drum set and Hot Wheels tracks!
Besides constructive play, cooking, gardening and PE, we have a reading and writing curriculum that has been very successful.  From learning the alphabet and the mechanics of writing, to reading, we've seen impressive growth in our students' abilities.
Numbers and math are also covered in a variety of ways and real-world applications.
Your children's education and wellfare are our main priorities